Carl Franz and Lorena Havens, a writer/editor team with over 40 years experience traveling, living and learning things "the hard way" in Mexico and Central America.
¡Bienvenidos!

Come visit the NEW
Posted on February 2, 2012 by churpa
In addition to slaving away on the upcoming 14th (!) edition of The People's Guide to Mexico, we have finally made the leap to the 21st century (or thereabouts) with a new website. As you can see, we are now live at thepeoplesguidetomexico.com; our archives can still be plumbed at our old site, peoplesguide.com. Lorena has been burning the proverbial midnight oil and endlessly harassing our tireless and talented Web guru Kelly, who, in addition to giving us a new look, is now helping us iron glitches, perfect visuals, and fix blank links. If you notice anything weird, please tell us! We want the new site to be interactive, so if you have any suggestions or are interested in contributing to our blog, please email us at managingeditor at peoplesguide dot com.
I guess I should introduce myself. I have contributed articles to The PG for awhile now, but this year Carl and Lorena snared me into official duties. If you want to get down to it, this whole appointment reeks of nepotism, as I am linked to The PG via not only recent sweat and tears (helping revise the 14th edition), but also blood. I hope that with only 33 years of Mexico travel and a small gut, I can adequately represent my illustrious dad and People's Guide co-founder, Steve Rogers. (Though obviously, his shoes are too big for me to fill, either literally or figuratively.) If you have any topics you would like to see addressed on the website, please email me at churpa at peoplesguide dot com.
If you have questions about advertizing, please contact mi esposo Rich Peterson (rich at peoplesguide dot com). Rich also writes for the website; if you encounter bizarre or fascinating Mexico news stories you would like to see discussed in our weekly news round-up, he would love to hear from you. Feel free, of course, to continue corresponding with Carl and Lorena at their old addresses.

Speaking of which, we like getting mail and hope to feature reader content in upcoming posts about safety in Mexico. We would especially like to hear from those of you who are in Mexico or who have made the trip recently. Do you feel safe? Do you have any tips for people interested in driving south? What were the best tacos you ate on your trip and how do we find them?
Mexico: Articles, Letters, Travel Tips & More
It's all happening now at the new website:
This website and it numereous aticles and stories will remain available as The People's Guide to Mexico Archive. But all new material and updates can be found at:
The Archive:
Geo-Mexico: The Geography and Dynamics of Modern Mexico, by Richard Rhoda and Tony Burton

Growing up in a parochial school system, I was under the impression that the subject geography was limited to identifying countries by their shapes. Richard Rhoda and Tony Burton's Geo-Mexico drove the last nail in the coffin of my childhood misconception. Although it has its share of maps, the volume illustrates both the richness of geography as a field of study and the spectrum of cultural, economic, and environmental anomalies that make Mexico so eternally fascinating.... (more) Review by Felisa Churpa Rosa Rogers
Hi, I am from Mexico and I wrote this book. Xtabentum: A Novel of Yucatan.... Thanks, Rosy Hugener (more)
Dear Lorena and Carl, I would like to suggest an additional Spanish resource, E-Spanish .....online Mexican radio stations ....Useful Spanish expressions, also with native pronunciation ....Online grammar and vocab tests ...Interactive tool for practicing Spanish words... (more) from Akos Szego

Lorena: Mike Huckaby and Cathy Waterman make several trips a year into Mexico's Copper Canyon. Here's a new list of recommended books for this fascinating region.
•Backcountry Mexico: A Traveler's Guide and Phrase Book, Bob Burleson and David H. Riskind;
•Tarahumara of the Sierra Madre: Beer, Ecology, and the Social Organization, John G. Kennedy
•God's Middle Finger: Into the Lawless Heart of the Sierra Madre, Richard Grant
•Tarahumara: Where Night is the Day of the Moon, Bernard Fontana
•The Apache Diaries: A Father-son Journey, Goodwin & Goodwin
•Rain of Gold, Victor Villasenor (a history of Batopilas)
•Trail of Feathers: Searching for Phillip True, Robert Rivard
•In the Sierra Madre, Jeff Biggers
•Born to Run: A Hidden Tribe, Superathletes, and the Greatest Race the World Has Never Seen, Christopheer McDougall
•The Life and Times of Pancho Villa, Freidrich Katz
(Feb 2011)


Fred & Linda: Several years ago we met you guys in Batopillas at a small "motel" you were residing.... we subscribed to your newsletter....We never received a copy....
Carl: we must confess to being notoriously disorganized and negligent, especially when it comes to administrative tasks....
Fred & Linda: Sadly, from others, we have heard that Batopilas is becoming unfriendly and that some cartel members are tightening their hold in the Canyon related to the drug trade. Hopefully, those are rumors, but it would be appreciated if you could shed some light on that.
Mike Huckaby: yes. Batopilas has changed. Maybe it's just that what was in the shadows is now out in the open, but if you know the signs, you see it. For instance.... (more) (Feb 2011)
Like the Aztec god of war that the restaurant was named after there is nothing subtle about El Taco de Huitzilopochtli. It is easily the most intensely Mexican restaurant that I've ever visited....Traditional Mexicans love to express their exuberance of things Mexican. When the exuberance is coupled with the talent of a skilled host and chef, and finally amplified by the strong will of a cultural aficionado, the result can be spectacular.... (more) by David "El Codo" Eidell. (Feb 2011)
,,,,eggs with dreaded meat, eggs with fool and fruit with not ice cream ....brain flakes.... Please send us any fun menu translations that you find. (Feb 2011)
We are both musicans and I am an artist. Looking for an inspiring and healthy life style.... I would like to know if one like myself could sell art or be a sidewalk portrait artist. Are there clubs that have live music?.... Kathy.
Robin Noelle: ....Note that there is a "union" for musicians and performing in these venues requires a "permit" and the payment of fees and a percentage of your income. I believe that if you want to sell anything on the sidewalk or Malecon, that you also need a permit and they are very hard to come by. It is all strictly regulated.... (more). (Feb 2011)
Lorena's Note: This letter was sent to us a very long time ago (pre-email!). Although the details on the books is dated, the books can still be found and will still be of value to anyone interested in the flowers and trees of Mexico. If you have any other recommendations, please email us.
Hi Lorena: We have been looking for books on Mexican Flora. The Flora is so beautiful and interesting, but there does not seem to be much available to help in identifying them. We have found: Tropical Blossoms....Review of several books by Jerry & Susan B. Eubanks
I am always happy when I see it: a campsite in the middle of the desert, the loan gringo living in an obscure Oaxacan village, even the relatively common sighting of the adventurous gourmand hunkered in a market fonda. Each glimpse is proof that Mex-trippers continue the tradition I grew up in: exploring the riches hidden in the shadows ….. going metaphorically or literally off road in a foreign country is daunting and not always wise, unless you have some idea of where you are and what you are doing…. (more) Review by Felisa Churpa Rosa Rogers (Feb 2011)
The story has plenty to lure the reader: banditry, kidnapping, hubris, madness; but it is a fine attention to detail, on both the factual and visceral levels, that distinguishes C.M. Mayo's first novel, The Last Prince of the Mexican Empire. Drawing from original research and a nuanced understanding of Mexico, Mayo relates one of the country's more fantastic historical episodes: Maximilian, an idealistic Austrian prince who, with French backing, is crowned emperor of Mexico in 1864.

With his young wife, the Belgian princess Charlotte, Maximilian is thrust into a role that makes Obama's 2008 task list seem mild…. (more) Review by Felisa Churpa Rosa Rogers (Feb 2011)
"I take it as a sign of my aging that I find myself more anxious than I used to be setting out on a trip. I grow querulous and irritable, I get that old familiar morning-after feeling of being ungrounded.... It's partly, of course, that I'm alone — heading south back when we were a family of three was a rushed and complicated delight!"
Tina Rosa vividly describes the good, the bad, and the unexpected in her latest solo driving journey from Oregon to San Miguel de Allende. Continue reading at Tina's blog on Open Salon. (Feb 2011)

Felisa Churpa Rosa Rogers inherits a cookbook from another Mexico traveler. "....Carol was my godmother, and she and my mother knew each other from the old days in San Miguel de Allende. They had a thing or two in common: they were both adventurers, bohemians, writers.... continue reading Felisa's blog 'Winterpalace' at Open Salon. (Feb 2011)
.... Steve [Rogers] didn't like music created after 1955, though he made exceptions for bluegrass, Gram Parsons, Merle, or songs his friends played on their guitars on long nights in Mexico.

When I was nineteen, he came to visit me at college. I was attending a hippie school, Evergreen, and for the first time in my life I wasn't embarrassed to be seen on campus with my dad, who, with his long grey beard, enormous pot belly, and penchant for tie-dye, looked like a cross between Jerry Garcia and Galileo.... (more) by 'Churpa' Felisa Rogers, Published at Winterpalace: a blog by Felisa Rogers - Open Salon.
Carl and Lorena; Thank you so much for producing "The People's Guide to Mexico." We have referred to is scores of times since moving to Ajijic in 1999. It provides insights to Mexico that are not available in other guides.



I am writing to suggest a new book for your 'Recommend Reading Bookshelf". This book is Geo-Mexico: the geography and dynamics of modern Mexico, by myself, Richard Rhoda and Tony Burton.....(more)

Moments from ¡Gringo! are familiar to the serious Mextripper: a lone van nestles for the night at the foot of a desert mountain, a Mexican family arrives for a fully clothed swim in the river, a 'ghost campground' is recognized by....Comic book doesn't quite capture ¡Gringo!, but it's not a graphic novel either.... (more) Review by Felisa Rosa Rogers
If you can get past the garish cover and the weak first chapter, Hat Dance, by Micahel A. Thomas, is a thoroughly entertaining, if not always satisfying, read.... That said, the story is alive with the author's palpable love for Mexico. 'It's always cheering to be in Mexico and to know it', Lee White, the gringo journalist, thinks as he wakes up to the sound of a Tepic fiesta....(more) Review by Felisa Rosa Rogers

We just got back from 4 weeks in the barrancas. We started with a hike to Urique for the 5th annual Caballo Blanco Ultramarathon.... (more) by Mike Huckaby
My wife and I are retired and had been living down in southeast Arizona and so much has been in the news about how unsafe it is to cross into Mexico especially in Nogales, Naco, Agua Prieta.... Michael
Senor Codo: Border towns have never been a great inspiration. Nogales on both sides of the border is at best more than a bit seedy. I do believe that those crossings that manage to avoid extensive travel in downtown and suburbs may be the best choice... (more) (1-09)

i am writing to thank you for your advice, which helped me plan my trip to the copper canyon over the new year. It was great! on your suggestion, we did end up buying a ticket from nyc to tucson with a return from el paso in order to cut down on travel time. it worked really well. we took a bus down to alamos overnight from tucson.... (more) by Hilary. (1-09)
With a tropical landscape dotted with ancient Mayan ruins, a lively capital and two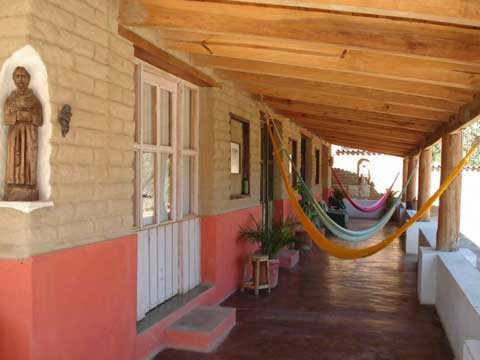 attractive coastlines, Mexico has plenty to offer both adventurous travelers and holiday makers seeking a spot of relaxation in an affordable paradise.

Great water-sports, vibrant nightclubs and a low cost of living add to the charm of both Mexico's scenic shores and thriving cities. In recent years, it has also become a very comfortable destination even for tourists on a budget, thanks to an increase in quality Mexico hostels..... more by Alison Woolliams, HostelBookers

Devra: I'm a woman (60) and am doing some historical research in the areas of Sinaloa and Sonora... is it better to rent a car… or take buses? ...I have some Mexican friends who warn I shouldn't be driving anyplace in northern Mexico alone, no matter when (narcotraficantes and kidnappers), and others who say its no problem....

Carl: I think the odds of being kidnapped or even carjacked in northern Mexico are less than in much of LA and southern California…. The last time I went to El Fuerte… a great shrimp cocktail… You can walk at night there, especially around the central plaza… a small bookstore.… Here's a tip that really works: carry your PDA, camera, and can't-bear-to-lose items in a cheap..

Later, Devra: I loved driving. Ended up driving out to a small ejido.… (more) (5-08)
I had planned to send you my Mexican Traffic Cop stories, but Curly was very insistent that I pass on information about the road conditions from Creel to Batopilas. This is as of 02/14/08...The pavement from Creel to Samachique is in great shape, though drivers should keep an eye out for rocks in the road.... (more) by B.J. (5-08)

You might ask: why do I need a GPS receiver? Well, if you have to go into Guadalajara for a doctor's appointment, it will make the trip less stressful and faster to have a device that speaks the names of the streets and instructs you in advance where to turn....

At the beginning of this year Garmin released the City Navigator Mexico NT 2008.(more) by Mark Walker (5-08)
Any Garmin receiver will work in Mexico as long as it has the ability to load extra maps. Most users are choosing a Nuvi of some kind since they are the newest models... (more) by Mark Walker. (5-08)

After spending some four years living and traveling up and down the rugged and beautiful coast of Michoacan I have formed some opinions about travel and camping safety....My advice is to not camp alone on a seemingly deserted beach.... (
more
) by
David Eidell
(
4-08
)
Dear Carl & Lorena, After several trips to mexico travelling PG style, I feel I've at least earned the privelege of writing to express my thanks. after all, the people's guide was written for me and my husband, Curly. We don't have much money, we avoid border towns, cities, and tourist areas and we love the mexican people.... Before travelling in mexico, of course, I had heard the horror stories. But, it didn't take long to realize....(more) from b.j. (2-08)

My favorite place to sit in Bucerias, Nayarit is under the rooftop palapa of "The Bar Above", a fantastic martini and dessert bar owned by Buddy, who makes the world's best chocolate soufflé. It is inevitable that I will be joined by one or two old-timers, that is, people who have been traveling to Puerto Vallarta and the Bay of Banderas since the beginning of time. Without fail, as they gaze across the glittering lights of the bay, they say the same thing, "Boy, things sure have changed. I remember when Puerto Vallarta was just a little fishing village."....(more) by Robin Noelle (2-08)

Carl says: This review of the latest edition of The Rough Guide To Mexico by our curmudgeonly correspondent, David "El Codo" Eidell, reminds me of why I could never face the harsh realities involved in writing and updating a "real" guidebook..... (more). Full review by David "El Codo" Eidell
Among the most important questions to ask yourself while packing up and making your pre-trip preparations, is "what about money? "Will you carry cash and/or traveler's checks in Mexico, and when it runs out, as it always does, how will you get more? .... (more) by Carl Franz
Once upon a time, when I first began a serious writing routine, I worked entirely with pencils, ruled 3 x 5 index cards and a very sturdy Olympia portable typewriter....Then, in 1985, an article in the newspaper about personal computers and something called "dedicated word processors" changed my life..... (more) by Carl Franz
Our flight gets into Guadalajara at 2:15pm on Christmas Eve....Any suggestions as to if/how I could hire a taxi to drive us the 5 hours to San Miguel?....(more) from Jim A
It seems that there are conflicting statements in the following from your website....El Codo clarifies ... "Let's go over the issue of written prescriptions one more time.... (more) by David "El Codo" Eidell
.... The springs are there and the water is great. The unfortunate thing is it was overcrowded and trash was everywhere. We were there on January 3 so the holiday could be a factor....We cannot recommend the drive there enough though.... (more), Buck
Topo Maps: Mexico & the Copper Canyon
Topographic maps are valuable for any outdoor recreation activities -- hiking, biking, four wheeling, motorcycling, or back road adventures. This is especially true in Mexico's Copper Canyon ... (more) by Laura Ericson, Map Link