Updated: February, 2011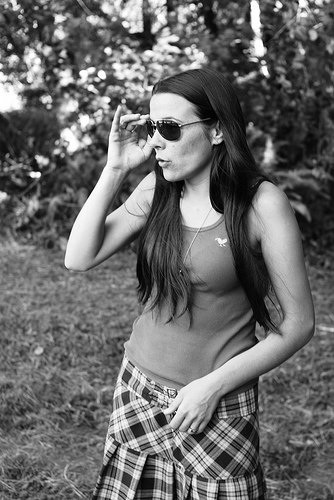 Felisa Churpa Rosa Rogers was born into Mexico travel. Her dad, Steve Rogers, of Grunterama fame, and her mom, travel writer Tina Rosa, took her to Mexico in a '68 Dodge camper when she was two months old. As she grew up, the family typically spent half of each year exploring the back roads of Mexico and Guatemala in a succession of beloved vans.

Today, Felisa is a freelance writer and editor. She lives with her husband and cats and assorted unwanted mice in Deadwood, Oregon, where she enjoys reading, writing, cooking, and listening to outlaw country. She still does her damndest to escape south every winter.

Visit her online portfolio: http://felisarosarogers.weebly.com, or check out her blog: Winterpalace: http://open.salon.com/blog/winterpalace.


Articles and Book Reviews
by Felisa Churpa Rosa Rogers


Geo-Mexico: The Geography and Dynamics of Modern Mexico, by Richard Rhoda and Tony Burton

Growing up in a parochial school system, I was under the impression that the subject geography was limited to identifying countries by their shapes. Richard Rhoda and Tony Burton's Geo-Mexico drove the last nail in the coffin of my childhood misconception. Although it has its share of maps, the volume illustrates both the richness of geography as a field of study and the spectrum of cultural, economic, and environmental anomalies that make Mexico so eternally fascinating.... (more) Review by Felisa Churpa Rosa Rogers

I am always happy when I see it: a campsite in the middle of the desert, the lone gringo living in an obscure Oaxacan village, even the relatively common sighting of the adventurous gourmand hunkered in a market fonda. Each glimpse is proof that Mex-trippers continue the tradition I grew up in: exploring the riches hidden in the shadows…. (more) Review by Felisa Churpa Rosa Rogers
The story has plenty to lure the reader: banditry, kidnapping, hubris, madness; but it is a fine attention to detail, on both the factual and visceral levels, that distinguishes C.M. Mayo's first novel, The Last Prince of the Mexican Empire. Drawing from original research and a nuanced understanding of Mexico, Mayo relates one of the country's more fantastic historical episodes: Maximilian, an idealistic Austrian prince who, with French backing, is crowned emperor of Mexico in 1864.

With his young wife, the Belgian princess Charlotte, Maximilian is thrust into a role that makes Obama's 2008 task list seem mild…. (more) Review by Felisa Churpa Rosa Rogers
'Churpa' Felisa Rogers inherits a cookbook from another Mexico traveler. "....Carol was my godmother, and she and my mother knew each other from the old days in San Miguel de Allende. They had a thing or two in common: they were both adventurers, bohemians, writers.... continue reading Felisa's blog 'Winterpalace' at Open Salon.
.... Steve [Rogers] didn't like music created after 1955, though he made exceptions for bluegrass, Gram Parsons, Merle, or songs his friends played on their guitars on long nights in Mexico.

When I was nineteen, he came to visit me at college. I was attending a hippie school, Evergreen, and for the first time in my life I wasn't embarrassed to be seen on campus with my dad, who, with his long grey beard, enormous pot belly, and penchant for tie-dye, looked like a cross between Jerry Garcia and Galileo.... (more) by Felisa Churap Felisa Rogers, Published at 'Winterpalace' at Open Salon

Gringo, by Nick Threndyle
Hat Dance, by Michael A. Thomas