Wendy Dison is an artist, designer and traveller. Since 1980 she has been off the beaten track, usually alone, in Europe, Africa, Asia and Latin America, always travelling with a sketchbook.

At home, her drawings provide inspiration for artwork, including handmade greetings cards. Those featured here have her Latin American themes, often drawings or traditional motifs, and use layers of colored paper and handprinting.

Wendy currently lives with her partner, Dick, in an 85 year old house in Chester, in northern England, where she has a studio and workshop. Leisure time is spent in the nearby mountains of Wales. However, she and Dick are planning to move to the mountains of West Cork in Ireland, prompted by Wendy's happy memories of the simple lifestyle she enjoyed in Mexico.

Wendy, who was living in the Copper Canyon when Carl and Lorena met her, illustrated the covers and most of the interior drawings in People's Guide Travel Letters # 4, 5 & 6. Some of her illustrations also appeared in People's Guide Travel Letter #7.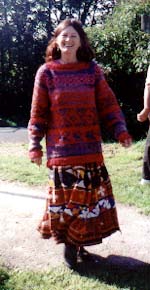 Mil Vientos Cards
By Wendy Dison
Inspired by journeys in Latin America --The people, colourful textiles, pre-Columbian artifacts.

Screen prints • Original drawings • Handmade Paper

All cards handmade using designs from Wendy's travel sketchbooks

$12 for 5 different cards.

Wendy Dison, 22 Kinglsey Road, Boughton Heath, Chester Ch35RS, Great Britain.

Please send cash only, (wrapped in aluminum foil), as cashing foreign checks is very expensive

Lorena's Note: "These cards are unique and a pleasure to send."