Mexico's foreign retirement communities might seem an unlikely setting for a great adventure story, but in Midlife Mavericks, Ajijic author Karen Blue reminds us that courage comes in many forms. Through a highly readable series of face-to-face interviews, Blue chronicles the stories of sixteen "Indiana Joans... ordinary women who have made extraordinary choices".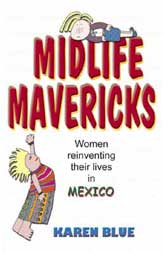 In fact, the adventures this book relates is just the leading edge of a growing movement: single women moving to Mexico, overcoming their fears of the unknown and discarding old beliefs in search of new dreams.

After describing a "macho executive meeting" in Silicon Valley and her subsequent decision to bail out and "run" to Mexico, Blue structures her book as a series of friendly conversations rather than formal interviews. She approaches each woman as a potential friend, and relates their widely varying experiences with the ease of a skilled storyteller.

A quick glance at my own bookshelf suggests that virtually every book previously written on retiring in Mexico is by a man. These authors tend to focus their attention on couples, as well as facts and figures. Blue's perspective is much more personal: what circumstances led these women to uproot themselves and move to Mexico? What were their feelings and how have they dealt with their fears? What has been the emotional impact of separation from careers, friends and especially their families?

Blue and her confidantes tackle these questions head-on, with disarming honesty. Rather than methodically planning such a dramatic change, most of Blue's respondents seem to have been overcome by a nagging feeling or a sudden, overpowering intuition to move to Mexico. Some had very successful careers and are financially secure, but others, like Chaz, arrive in Mexico with far more optimism than money. ( Most of the women live on U.S. $800 to $1500, though others obviously make do on much less.)

As the subtitle says, Midlife Mavericks is about "women reinventing their lives in Mexico". It is not a book about superwomen or Pollyanna in sunny Mexico. A few of these women obviously smoke too much, others worry about pinching pesos or lament their deficient love lives. As Blue makes perfectly clear: leading a "successful" life in Mexico is a constant challenge, especially for a single woman.

In fact, they don't always make it. Although Penny felt "bewitched by the sunshine and lush green mountains", others found the radical change of culture and lifestyle to be difficult. Even with a large foreign community to act as a buffer, the reality of Mexico isn't always as attractive as a tourist brochure. Some women felt they'd been naive when they arrived, especially those who impulsively bought homes or property. According to Britt, "There is something about being a woman alone down here. We're so trusting and it's easy to be taken advantage of -- by slick gringos as well as Mexicans." For Halsie, the stress of building her dream house was simply too much. After seemingly endless delays and difficulties, she finally returned to the U.S.

The majority of the women Blue introduces us to manage to overcome the difficulties, however, and to enjoy the rewards of living in Mexico. For Maggie, "This village has captured my soul. Yes, I still get depressed occasionally, but here I get over it more quickly. The sun shines and the people smile. They're happy. I realize how fortunate I am."

As we share in these women's stories, many practical details are also touched upon, such as how they managed to move their furniture, deal with visas, connect to the Internet and pay their monthly phone bills.

And what about crime and safety? As you listen to their stories, it becomes obvious that most of these women feel secure in Mexico, and in some cases, safer than the places they once called home. BJ says, "I feel safer here than I did in Dallas. The Mexicans are a gentle people. I don't hesitate to walk down to the restaurant alone or to the village plaza on a Sunday evening.... In a small neighborhood like this everyone knows everything and we all look out for each other."

Whether it's learning to shop in the local tianguis, studying Spanish, or remodeling a house, these women seem to share a pragmatic, "can do" attitude. In fact, many confess that their biggest challenge in Mexico has been learning about themselves. Chaz explains, "Loneliness can become a major issue. I think you have to be a very strong woman. One needs to be strong and adaptable. Because it is a journey, and if you're open to it, it can be exciting." Maggie agrees, "I'm inventing a social life for myself that includes a lot of alone time. I've learned how much my life is enriched by the Mexican neighbors and friends I have."

Blue asks these women fundamental questions: what do they actually do, day by day, once they've moved and settled in? Carol: "I've taken about ten trips throughout Mexico -- either alone or with friends. I never worry about what might happen. I know so many people who won't travel because they're afraid. I refuse to let fear control my life."

Midlife Mavericks discover that Mexico's blessings include time for painting, writing and other activities they only dreamed of in their previous lives. Television and shopping are seldom mentioned; most of these women garden, weave, study Spanish, volunteer at the library and local charities, play bridge or golf.

Finally, we follow Blue to Diane's house. Blue asks "this nice Jewish gal from New York" if there was ever a time that she regretted her move? "In some mysterious way," Diane replies, "I think this is what I've been looking for a long time, but didn't know it -- a kind of serendipity.... I'm definitely happier in Mexico; and what's more important, I like 'me' better now."

Thanks to Blue and her friends, we are able to discreetly eavesdrop through closed doors and bougainvillea covered walls. As we "overhear" these Midlife Mavericks describe the challenges and rewards of living in Mexico, the reader inevitably begins to get a certain idea... a hint... an intuition.

If these women can do it, perhaps I can too?



Order Midlife Mavericks: Women Reinventing Their Lives in Mexico.
Visit Blue's website <http://www.mexicoblue.homestead.com>