published: March 2001
January 31 to Febuary 1, 2001
A young couple we continue to meet is from New Zealand. They have mostly cycled (occasionally traveling stretches by bus) from Vancouver, heading for Costa Rica or Panama before flying home. We first heard about them from other RVers in Patzcuaro, and the morning we were leaving saw them riding up a hill with their fully loaded bikes. We gave them a toot of encouragement. Not too much later, (about a week), we met up with them in Oaxaca. From there, they headed to the coast.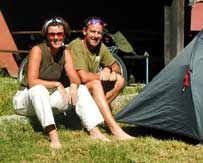 Here in San Cristobal, we were surprised to see them ride into the campground where we're staying. This morning they left for Ocosingo, which is where we'll catch up with them tomorrow. Jo & Andy (see photo) have been traveling for 8 months; they'll be home the first week of May. Though there was frost this morning, they seem to manage fine sleeping in their tent. They commented that the crisp weather here at 7,000 felt good for a change after the hot and humid coast. They are experienced bike travelers, having previously cycled for trips of 6 months and 3 months in Europe. And we now have a contact for that possible future New Zealand trip.

Oaxaca

Oaxaca Trailer Park is a busy crossroads, where we met people coming north, who had traveled down the Gulf Coast through the Yucatan peninsula & Chiapas, and people heading south, like us. Some people spend only a night, others stay for months. Despite rumors that the park will be closed at any time, the park employee said caravans were booked to come in later in January and in February.

Based on the location of the trailer park, in the middle of a built-up area, only a couple of miles from the centro, it would not be surprising to see this city block become building lots for residential or commercial use. The only other RV park, on the outskirts of Oaxaca, is apparently too small for larger rigs, so if Oaxaca Trailer Park does close, it will eliminate any place to stay for us and others on future trips. That would be a shame, because Oaxaca is a beautiful place to spend some time.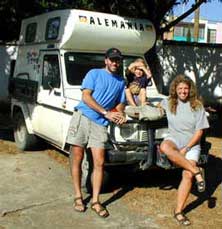 People staying here are in every type of rig, from VW vans to truck campers, large (up to 38') motorhomes towing Jeep Cherokees, fifth wheels (one was a 38', triple slide out), and tent campers traveling by motorcycle or bicycle. The most unusual vehicle we saw belonged to a German couple, traveling with their just-turned 3 daughter. Amadeus, Monika & daughter Tara (see photo) had shipped their vehicle to Buenos Aires, drove to Tierra del Fuego, and were headed to Alaska.

They had been traveling for 14 months by the time they reached Oaxaca (Tara would not have been 2 when they started). The vehicle, a Mercedes jeep had a hand-built camper on it constructed by Amadeus, who is also a Mercedes mechanic. Talk about tight quarters -- it made a VW camper look positively roomy! They had so little space.

Oaxaca, famous for the quality and diversity of the crafts, was a treat to explore. We also visited many of the surrounding villages. We especially liked the hand-woven wool rugs (and succumbed to two). The artistic, museum quality weavings by Arnulfo Mendoza (with prices to match the quality, thousands of dollars) were incredible to see and admire.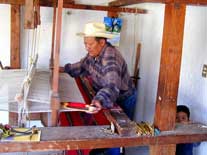 We met one weaver in Oaxaca from Teotitlan del Valle, Juan Valdez, and bought one of his rugs. He did not sell from his home as so many in that town do, but invited us to visit anyway. He told us to ask for directions from the central part of town, that everyone in town knew him. It was just as he said. We had to ask several people as we walked the streets, but everyone knew where Juan Valdez lived. It was still a bit difficult to find the narrow little alley-way leading to his house.

He and his wife were both weaving (he said they work 7 days a week) when we got there on a Sunday. All four of their large looms had rugs in various stages. Juan is in his mid-fifties, and has held leadership positions in the village, now with a population of about 5,000. He shared information about their tradition. It seems that the village is a very tight-knit community. He is proud of his work, showed us many photos of his weavings, and demonstrated techniques. When we left, he insisted on giving us a woven bag. He extended an invitation to visit again, when we are back in Oaxaca, which we will surely be one day.

Ocozocoautla
The Churches campground guide has proven useful to find off-the-beaten track spots. Our favorite so far was in a town just before Tuxtla Gutierrez, Ocozocoautla (a mouthful). The site for where we stayed for two nights was at a children's home, Hogar Infantil, where they have 3 parking spots for RVs. I think we expected something pretty austere, but instead discovered happy, out-going, lovely children. There was a nice facility for them, with many acres and lots of trees, grass, animals, a soccer field (grass!) and basketball court.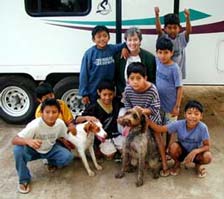 There are 85 kids here, who have been abandoned, given up by their relatives or parent(s), orphaned, or abused. Until recently the home was just for boys; now, one third are girls. We learned that this home is U.S. funded with a U.S. board of directors; the Mexican government does not provide funds for these types of facilities, and most struggle to provide even the basics. Hogar Infantil, while not at all luxurious, must be one of the better ones. We will make it a priority to return here if we were anywhere in the area.

In the first half hour, four boys gave me a guided tour, and I got a good look at the pigs, sheep, dogs, chickens and ducks. One of our dogs, the Brittany rescue we've had only 3 months, loves children, and consequently was totally adored by many of the kids who walked her, petted her and threw balls for her. Both nights there were good night hugs, and good-bye hugs on the morning we left. These children are special, and considering the circumstances of raising them without parents and immediate family, they seem to be doing well. I wrote an e-mail to the president of the board in the States to let her know we were impressed with the work they're doing here.

The second day at the Hogar Infantil, we planned a day trip to the Canon del Sumidero, and the highly regarded zoo (all Chiapas animals) in Tuxtla Gutierrez. That morning, after all the children had gone to school, I noticed one boy still there. When I asked him why he wasn't in school, he told me his school had vacation that week. We decided to ask the director if we could take him with us for the day. She told us yes, as long as he finished his chores (mopping the dining room floor). When we asked Tavo (nickname for Octavio) if he d like to go, he said YES, and quickly finished his job.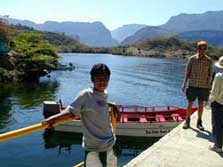 We learned that Tavo, now 13, was born in Palenque, and has lived at Hogar Infantil since he was 1, almost his entire life (they no longer take children that young; now the youngest is 4 years old). He seems bright, somewhat serious and polite. He said he wants to be an abogado (lawyer) and his favorite subject is history.

After the boat trip through the 30 km canyon with sheer walls up to 800 meters high (very impressive), we had lunch with 3 Mexican men and a young Canadian couple from Victoria that we met on the boat. Then, to the zoo -- Tavo had been to the zoo many times before and was a great guide for us. His sharp eyes were very good at spotting some of the more elusive animals. Although he thanked us at the end of the day (and has since e-mailed us also), the pleasure was really ours.

All for now. More on San Cristobal, Ocosingo & Palenque to come.