published: January 2001
First, a little background....

My name is Char Bennett, and my husband is Al. While I've sometimes described ourselves as over-age hippies, I guess that's not completely true. At least Al's not. I sort of am. I was the type who worked only enough to earn money to travel around Europe on the tiniest of budgets. While Al, being an executive with one of our huge fast food chains, needless to say, didn't exactly travel the way I did. He designed and built restaurants all over Europe. But that was long ago and before we met. Now we're more soft-adventure travelers. Between us we have seven kids, all grown, and a zillion grandkids. Our home base is Winter Haven, Florida.

We've done lots of traveling in weird and interesting places, and always on a very tight budget. On one excursion we island-hopped throughout the South Pacific, including such wonderful places as Papua New Guinea and Western Samoa. We've traveled by public transportation, staying in hostels and missionary guesthouses. About four years ago we planned a 5-month jaunt through Thailand, Malaysia and Indonesia, each bringing only a carry-on bag, but after five weeks our trip was cut short due to the eminent death of my mother. So we only explored Thailand that time and hope to catch the others later.

Our RV
About ten years ago we acquired a 1978, horrible green, VW camper-van, so that started our camping life. And we've been hooked ever since. We shipped it over to Europe, and spent four months every summer for five years exploring the hidden parts of that lovely continent. Actually we think we still have that van, but we just haven't seen it in quite a while (and since we haven't paid the $100 storage fee for about three years, we're not quite sure if it still belongs to us.... oh, well.)

Plus we're now spoiled. About four years ago we bought a slightly used (17,000 miles) 20' Damon Hornet Class C motorhome, and we tow a little hard-top Tracker. This motorhome has a real toilet in it.... as opposed to the van, where a nearby bush served the same purpose on more than one occasion.

Since then, we're spending about half of each year traveling around our country, including Alaska, although Canada has figured in there also. About two years ago we traded motorhomes with a couple from Pretoria, S. Africa... so we spent three months camping among the elephants, giraffes, hippos, rhinos, etc., as well as exploring much of Southern Africa. Fantastic experience!!! Now we're really looking forward to our upcoming 4-month trip to Mexico.

Anyway, a little over a year ago we started talking with some friends from Massachusetts about the possibility of a Mexican trip, but while Judy and I were all for it then, Al and Bruce still weren't totally convinced that things were quiet enough in Mexico. Judy and Bruce Gregory are a great couple whom we met about three years ago while camping near Devil's Tower in S. Dakota. We've stayed in touch ever since, visiting back and forth when in each other's territory. Actually this trip was originally their idea.

Bruce used to work in the Post Office Department and Judy was an Occupational Therapist. Soon after retirement, they took a tour of Ireland, and then spent a year in their 26' motorhome. However, they're still a little new at adventure traveling. But they're certainly excited about this upcoming trip!
The Itinerary

Since our friends had never been to Mexico while Al and I have been there several times (but never camping), I drew up what I considered to be a very encompassing itinerary.... including some new places for us. But we were also anxious to show off some of our favorite places from past trips, so I included those also.

Bruce and Judy gave us free reign on the itinerary, which was great for me! I love planning trips; in fact, that's what I did, as well as directing tours, for the past 12 years for a travel agency here in Winter Haven. Also, since we didn't want any misunderstandings later as to where we would go, we all thought that an established itinerary would eliminate that foreseeable problem.

So, in general, here is our itinerary: Crossing at Laredo, we'll head to Zacatecas, then the Guadalajara area. From there we'll visit some of the Colonial Cities -- Patzcuaro, Guanajuato, and San Miguel de Allende -- before reaching Tepotzotlan (north of Mexico City). There we'll leave the motorhomes and stay at a hotel in Mexico City for a few days.

From Mexico City, we'll head for Veracruz and make our way around the Gulf coast via Lake Catemaco, Campeche and up to Merida. From there we'll go over to Cancun and Playa del Carmen, and on the way back, visit all the wonderful ancient Mayan Cities. -- Palenque, Chichen Itza, etc.

After exploring the Yucatan, we'll drop down to San Cristobal de Las Casas and Tuxtla Gutierrez, and gradually make our way over to Oaxaca, one of our favorite places. Then north to Cuernavaca, south again to Acapulco, and then north, slowly following the Pacific coast. In Los Mochis we'll leave the RV's again and take the train through the Copper Canyon. This time we plan on going all the way down into the canyon to the mining town of Batopilas. This should take just about four months, longer for our friends if they decide to take the ferry over to Baja, of course.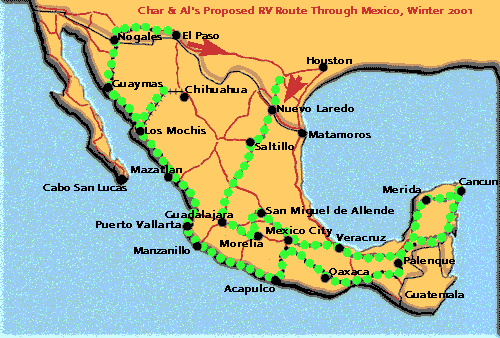 Well, about this time, I mentioned our upcoming jaunt to another couple (now good friends) who had just come back from spending time in Zihuatanejo, and they asked if they might tag along. And we said of course! They are Donna and Dell Nickell, also from Winter Haven. Dell was an architectural engineer, and still does some consulting work, and Donna, bless her, speaks some Spanish! They've done lots of sailing... up and down the coast of Mexico, among other places. And last year they took a freighter trip around the world. Age-wise, we all range between the mid-60s to mid-70's.... not exactly teeny-boppers!

So now you know who we are, and how we happened to find ourselves about to embark on one of the most promising and exciting camping excursions yet... for any of us!

Getting Ready: Books

As always when I begin thinking about a special trip, I started reading. I read probably six guidebooks, word for word. Everything from Michelin's Green Guide and the AAA book on Mexico (both excellent as far as sightseeing, especially the Green Guide) to the Lonely Planet Mexico, a wonderful combination of sightseeing and general info!

Then I read Carl and Lorena's People's Guide to Mexico (which is by far the best for good practical info) and re-read Kate Simon's book, "Mexico Places and Pleasures." Her book was written in 1962, and I've had it ever since. But, it is an absolutely beautiful book, and still somewhat pertinent even today. Oh, yes. I also read Michener's book, "Mexico," which was good, but not one of my favorites.... usually I adore his books and learn a tremendous amount of good stuff. This one isn't quite so interesting unless you're a bullfighting aficionado (which I guess I really am.)

Then I read "Traveler's Guide to Mexican Camping" by Mike and Terri Church, since we had to know where we could find campgrounds in order to plan a reasonable itinerary. We had all agreed that campgrounds or RV parks were the way to go for this trip, rather than wild camping.

Donna bought all of the Sanborn Road Guides for Mexico, but unless you follow their exact routes, it's almost impossible to comprehend them.... forget it! You'll spend all your time trying to follow them, and miss the whole country!

Maps
Another of my first undertakings was to find a good map, and from all accounts, the one we all ordered, the Guia Roji Atlas, is the best. It's a regular book, something like the Rand McNally Road Atlas here in the U.S.

The Guia Roji Atlas has lots of good info in it. It even has the costs of the various toll roads. These are not the easiest to figure out, but with a little perseverance, it can be done. We just can't tell which category motorhomes fall under. And we need a magnifying glass to read some of the highway numbers on the maps. It was a little hard to track down, but Book Passages out in California, toll-free phone 1-800-999-7909, was able to order them for us.

(Lorena's note: Maps of Mexico and the Guia Roji Atlas can be mail ordered from Gone Tomorrow.)



By now I've done as much planning as I want to do... and we've made as many advance reservations as we could. If we had been traveling alone or even with one other motorhome, we wouldn't have bothered with most reservations. But .... (more)