As a travel writer and 55 year-old wilderness guide, I've learned the hard way that I can't continue to do good work without improving my body's flexibility. Thanks to the recommendations of several chiropractors -- and inspired by the pain of paying their bills -- I finally began to practice yoga with Barbara Luboff.

Awkward, unbalanced, and feeling more than a little out-of-place, I soon found, however, that Barbara's easy humor and clear, practical instructions were having their effect! Rather than dangerous, painful contortions, Barbara has been teaching me simple postures and gentle stretches that gradually release years of accumulated tension and stress. Not only has my flexibility improved, but even as a raw yoga beginner I definitely notice a stimulating "tonic" effect from my practice.

Having first come to yoga rather reluctantly, I'm continually amazed at how beneficial Barbara's classes can be. For my money, doing yoga now looks a lot easier than just giving up and getting old.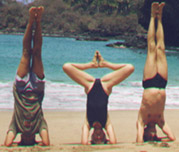 Lorena's Note
Barbara Luboff teaches yoga classes at at her home in Ajijic on Lake Chapala's Northshore. She also teaches week long Yoga Retreats on the Pacific Coast of Mexico and in Corsica. Check out her website: <http://www.yogainmexico.com>
For an interview with Barbara, visit: <http://www.anusara.com/teacher_bios/luboff.shtml>