Carl and Lorena,

I've been reading People's Guide for about eight years or so, and have traveled only a little in Mexico. I guess I've traveled vicariously through your books. I had a very cool adventure last time I was there, that maybe you would get a kick out of as well. It might be one of those, "had to be there things," but I wanted to share it with you. Thank you for all the stories, and for making a lot of the "mistakes," so we can avoid some of them.

Rod Scofield- Minnesota
Pizza in Reynosa
I'm a youth minister, and over the past few years, I've taken groups of kids to Reynosa to help out at an orphanage. This
year, counting me, there were fifteen of us, mostly from Minnesota, but also from Michigan and Wisconsin.

After finishing our jobs, on our last full day in Mexico, I took them to the tourist district where they could buy blankets, drink 'aguas' etc. They had a ball and after we met back in the plaza, they said they wanted pizza for dinner.
I asked a guy shining shoes if he knew of a pizza place anywhere nearby, and he pointed me down a couple blocks to "Nando's Pizza."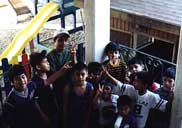 When we got there, it was SMALL! and there were fifteen of us. There were only two small tables with five chairs. I explained our situation to the couple behind the counter, and asked if there was another pizza joint in the vicinity. They informed that yes, indeed there was, but it wasn't really all that clean, and that I didn't really want to subject our gringo stomachs to that place.
T

hey also told me that there was another "Nando's" across town, and the wife got on the phone. After a minute, she told me that the other Nando's would bring up some more tables and chairs. I was skeptical they would fit, but I knew that come hell or high water, they would make it happen.
They invited all our kids inside, to enjoy the air conditioning. As I went outside to tell the kids what the plan was (I had them wait outside -- Didn't want to scare anyone) the lady was still on the phone.
Then she came out and told us that instead of the other place bringing tables, they were sending two pick up trucks to come pick us up and drive us over there. And sure enough, about five minutes later, two large pick up trucks came and stopped in front of us. We all got into the two trucks, and off we went!


We sure got a lot of funny looks and waves and points as two truck loads of gringos went zooming down the side streets of Reynosa! We had a blast. It was an adventure the kids will not forget, the pizza was great, and when we were done, they even drove us back!


Ron's Note: The work project we did while in Reynosa was at an orphanage just across the border. The orphanage is affiliated with Calvary Commission. And it's not really an orphanage per se, it's more like a children's home. Most of the kids there are because of government placements. Some kids get reunited with their parents, some go to other family members, some got to another orphanage in another city where they get adopted from. There are usually about 40 kids there. We helped paint a clinic they wanted to open, and we helped mix and pour cement for an addition they are putting on.