The Resurrection of the VW Van
By Ken Luboff
Many of us have fond memories of the time we spent in the 'old days', lumbering along the highway in our VW vans. We loved our vans, especially when they were working well. And even though every other car on the road sped past us like we were standing still, we were content with the illusion that we were members of a special club. When we saw another van we smiled and gave them a peace sign. These smiles quickly evaporated when our van broke down.
I can remember a particularly grueling trip from Philadelphia to New Mexico in the winter of 1969. Barbara and I loaded our '65 van, said tearful good-byes to our friends and headed west into a snow storm. Of course those van heaters never worked, so we each wore the requisite three pairs of socks, boots, gloves, heavy coat, scarf and hat. Admiral Byrd probably wore less gear to conquer the Antarctic.
About 20 miles out of Philly, Barbara asked me if I could hear the helicopter flying overhead. I said yes and isn't it amazing that a helicopter is out flying in such weather. It took us about another 5 minutes, and a gradually slowing engine, to figure out, with a groan, that the loud whooping sound was coming from our van. We made a U-turn and slunk back into town on three cylinders. It turned out to be a thrown rod in the infamous number three cylinder, the one that enjoyed overheating when the load was too heavy for those 36 horses to carry. Within a week we managed to buy a rebuilt engine, revive our spirits and sneak back out of town without ever running into a friend. We were on the road again, but I remember being under that van, in the freezing cold, at least five times between Philly and Santa Fe.
When we finally got rich enough we gave up crawling under VW's and bought a Toyota which was hassle free and seemed to last forever. But a few years ago we decided to move to Mexico and began looking for the right car to travel and camp in. After checking out the competition we finally bought a used 1986 VW Westfalia. We paid $7,000 which places our van on our top 10 list of best purchases ever made.
I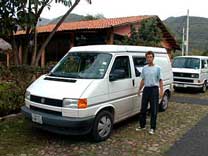 know you've seen them around, but you may not know that all Westfalias made after the late Eighties are water cooled and have 90 hp engines. This means that they can cruise comfortably on the highway at 70 or 75 mph, even up hills, without overheating. Standard Westfalia equipment includes a sink, a two burner propane stove, a fridge, air conditioning and a heater which really works. There is storage for 13 gallons of drinking water, a pull-out bed and outside outlets for hooking up in legitimate campgrounds. And like vans of old, our Westfalia has plenty of ground clearance and a great suspension which allows us to drive into some fairly rugged country. To sweeten our travels we added a ten CD changer and some good quality speakers.
One of our favorite Westfalia features is the pop-top. With the top popped we don't have to break our backs to cook a meal. We can stand tall while frying an egg or changing clothes. The pop top hides a second bed that will sleep two comfortably. Often, while traveling with a full load, we will merely stop, pop the top and crawl into the upper bed. We don't worry about moving our stuff from the bed below.
So here we are again driving a VW van. Only this time around it's more comfortable, reliable and hassle free. No more peace signs, but we feel much more peaceful on the inside. And more often than not, other Westfalians greet us with a friendly wave and knowing smiles. As they say, everything changes and everything stays the same.
Ken Luboff is the author of Live Well In Mexico: How to Relocate, Retire, and Increase Your Standard of Living