We crossed the border at Nogales, Arizona on Jan 31, 2002. There were 5 of us on the trip: Gail Brooks (74 years old), Jerre & Helen Doss (late 50's) & Ralph & Charlene Wallace (early 60's). There were 2 Honda Goldwings 1800's & a Honda Shadow 1100. We are all from Cedaredge, Colorado. We trailered our cycles from Cedaredge to Benson, Az. to a friends house and left the trailers until we returned.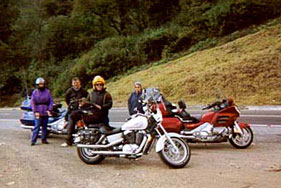 The first day we traveled to Guaymas and made it to Mazatlan the next day. We found the toll road very good but expensive.

We ran into some Mexican bikers from Obregon who were very helpful & gave us some good advice. They told us not to stop any place along the road unless we were at a town or one of the toll stations, as they said that banditos often lay in wait on deserted stretches of road.

The third day we made it to Guadalajara. The scenery has been beautiful & the people helpful.

We wanted to get through Mexico City on a weekend because of the license number system they use that restricts travel through the city on certain days. But, we had no problems getting through Mexico City. What a large city.

We traveled on to Puebla. There we had to go into a bank to get more pesos, to pay for the toll roads. The ATM machine wasn't working, so we exchanged dollars. We carried cash with us. We didn't keep all our money in one place and wore a money belt. In the larger cities travellers checks probably would have worked.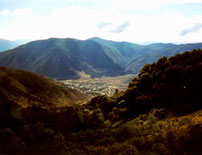 The scenery was beautiful -- everything from high mountains to rain forest to farm land to deserts.

On to Villahermosa & a WalMart store to get a mirror for one of the motorcycles.

Had an easy day on to Cuidad del Carmen. We had to do laundry there, as we can't carry too much on a cycle.

Onward to Chetumal where we crossed the border into Belize. We had no problems at all in Mexico. Everyone we met was friendly & helpful

We got through Belizian customs and then went to a little white building by the bridge to get Belizian insurance -- $23.00 US for 2 weeks.

We spent that night in Corozal at Tony's Villa and had a good seafood dinner.

On our way to Belize City the next day, we stopped by Altun Ha Mayan ruin. Enjoyed the stop.

On into Belize City and Villa Boscardi, a bed & breakfast where we had stayed on a previous trip. Great accommodations & good to see old friends.

The next morning we left for San Ignacio. It is beautiful country & great motorcycle riding. It rained after our arrival. In San Ignacio we met a young man who has a Honda Shadow like the one Gail was riding. They had quite a visit.

The next morning we were off to Placencia; the last 20 miles is a dirt road but not too bad. Placencia was really hit with the hurricane. A lot of buildings were lost & a lot of building is going on. The Westwinds Hotel was hit, but the owner, George, was able to save his building. George had 6 rooms completely redone & ready to rent. We spent 3 days there resting & enjoying the sun. There were only 4 places to eat in Placencia, so we took over George's kitchen & cooked.

Back on the road again to Belize City. We stopped in Dangeria to visit some relatives of some people from there, that are running a lodge there. Went back to Villa Boscardi to spend the night. We wanted to leave the motorcycles there while we went to Ambergris Caye for 5 days. He has a high-fenced yard, so we knew the cycles would be safe.

We took the Thunderbolt from the Swing Bridge at 1:00 o'clock & were on the island in a hour. We went to our old haunt the Hideway. It's nothing fancy, but a good bed & clean. We don't spend much time in our room. The guys were ready for a good chicken fried steak. Good Texas people run the place.

Spent 5 days enjoying the island & seeing old friends. Back on the Thunderbolt, at 7:00 in the morning this time, to get back to Belize City. Picked up the cycles & headed for the border. We got there about noon and had no trouble getting through customs. Now we're on our way home.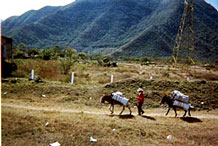 Spent the night in Escarcega. The next morning, we chose to go back along the coast road . We had been told it was traveled by Texans and it had a lots of places to stay. However, we found that we had to really hunt for places to stay. Maybe it was the length of time we were on the road & we had to stop before dark.

The next night we stayed in Coatzacoalcos. We ended up staying in a NO TELL MOTEL, though we didn't realize what it was until morning. But it was a clean room & quiet. Something to tell Grandkids about.

The next night we stayed in Tecoluta, right on the coast, We met some nice people from Minnesota. They let us look at their Sanborn's book so we could see how to get around Cuidad Victoria. The map in the book is good as it took us right to the Holiday Inn Express.

Well it was almost over. We went on to Reynosa and McAllen the next day and on into Texas. We had to come out this way because we were running out of money and had to get where we could use the credit card. Before crossing the border, we stopped at the bank and paid our pesos for our tourist cards.

We were on the bridge to McAllen when we remembered that we had to turn in our sticker off the motorcycles. So back across the border into Mexico again. We should have taken a copy of Sanborn's page on Reynosa, as it took us 45 minutes, and a guide in the form of a very helpful policeman, to get us to immigration. There we turned in the sticker, had the cycle inspected and got a release form.

Then back in line at the border, to cross again into USA.

We had a really good trip & absolutely NO PROBLEMS. There were 3 motorcycles going down and 2 coming back, as one motorcycle left Belize before we did.

We usually rode 350 to 400 miles a day. We had a limited time to get to Belize, as we were meeting another couple who were flying in. We left Arizona Jan 31st and arrived in Belize Feb 8th. We spent 10 days in Belize and left the 18th of Feb. We arrived back in Benson, Arizona. Feb. 25th.

We basically spoke no Spanish, I did have a Franklin Spanish Professor that I purchased from Radio Shack. We used a lot of sign language and the translator. I imagine they were laughing quite a bit behind our backs crazy gringos.

As for hotels, in the larger cities we either found someone that was interested in the cycles and asked them to take us to a hotel or we hired a taxi. Going down, we seemed to be able to find hotels with underground parking. Coming back this was not always available, so we locked the cycles together. I don't think they were ever bothered.

Lorena asked me for additional suggestions: So... take sunscreen, disposable cameras and a good attitude. Have lots of fun!!!